I had the pleasure to chat with the amazing Anabelle Iratni of Cradle of Filth and talk about her experiences of joining the band as well as their 13th record "Existence Is Futile"
Enjoy the interview!

David Dannenberg interviewing Anabelle Iratni
David:
Hi, I am David from the Festivalstalker magazine. And you are Annabelle Iratni – how are you?
Annabelle:
I am alive and well. It is sunny in England today which is rare. As if things aren't weird enough it is sunny in England.
D:
You have been announced as the new keyboardist of Cradle of Filth in May this year. Do you want to share your feelings about joining the band and what led to you joining?
A:
In terms of me joining, I joined in 2019. So, for me it's been a long time being in the band. I wasn't publicly announced until May this year. Because of Covid we couldn't get together to get pictures done, to do videos. So that, unfortunately, kept pushing it back which is really difficult for me.
In terms of how I came into the band, I was working with the Filth, Mr. Danny the Filth in Devilman. So, Danny was familiar with my vocals and my writing style. I'd often would send him my work. He really liked it. And when the position for Cradle opened up, he called me immediately and said: "I want you to audition for Cradle of Filth"
I was auditioning; this was about October/ November 2019.
Two days before Christmas, the 23rd of December – I remember the moment – I received this big bouquet of flowers. Really nice, expensive flowers. Purple lilies, wrapped in black with a note saying like: "Welcome to Cradle of Filth"
D:
What a gift! This sounds amazing. And now Cradle of Filth is about to release its 13th record; are you excited?
A:
Very excited! Because, I mean, 13 is such a metal number. To be part of the 13th album and also, I was born on the 13th of June; what a cool number to be part of a Cradle of Filth album!
D:
It is a whole lot of albums they've already released so do you feel any pressure on your shoulders?
A:
Definitely! And it is difficult coming into a band that honestly has been going since before I was born. There's pressure there knowing how many people have come before you, how many albums there are and the relationship the people have with Cradle. The reactions people would have towards Cradle of Filth can be a bit strange for me because I don't have that relationship because I wasn't alive.
This is a new era of Cradle, and I am here now so let's see where it goes!
D:
After 20 years of band history, how was the experience of recording an album during a lockdown? You are not part of it for so long, but did you face any new obstacles?
A:
Everything was done online and via Dropbox. And the weirdest thing is we have not been together in a room as a band. Writing the album, I was just a person on a screen. It was very interesting to try to learn the dynamics of the band online. The studio times kept getting pushed because of lockdown. There were travel issues but that just gave us more time to work on the album and really refine it and take bits out and work on it right to the bitter end.
D:
Did you bring your own influences as a musician to the band?
A:
My hands are sort of all over the album. There are three instrumentals on the album that are mine, I wrote those. I have two songs that are my ideas as well and I contributed keys to quite a few along with Martin because Martin, the drummer, he did all the keys and orchestrations for the last two albums. To have someone else come in and doing that with him has given hopefully a fresh perspective and different flavour. Obviously, my vocals are on there. I am a classically trained mezzo soprano, so I have that really strong, operatic voice which really suits Cradle.
There a little Annabelle touches all throughout without even realising it.
I am all over it like a stain. Hopefully in a good way!
D:
Over the years your band has refined its sound and style. What can we expect the style of your new album to be?
A:
It's sexy! That's all you need, it's sexy. There's a lot of different moods and flavours that each song has a different energy. It all fits together really well but each song can really stand on its own. The producer wanted to focus on having things more stripped back for this one. Not having everything so layered like the last two albums to really have it be bold and big riffs and stripping back the keys so when they kick in, they feel really impactful.
D:
"Existence Is Futile" – what a title. What is the topic and is there a deeper meaning behind this? What are the songs dealing with?
A:
That concept was developed before Covid hit. It's definitely those dark feelings of existentialism, of life and feeling those feelings that are bigger than us. Like "Calling King Chaos", you can feel the chaos.
If I had to describe the musical Cradle of Filth, I'd say it's music you listen to at a vampire orgy. Vampires feeling very depressed about the sun and that at any moment they could burn off. There you go, that is sort of the vibe.
D:
How many tracks will be on the album?
A:
12 Songs and two bonus songs. Three of those are instrumentals (totally knew that by heart).
D:
As concerts are slowly but surely becoming a thing again, do you already have tour announcements for us?
A:
Yes! We are flying out next week to the US. We are doing a month in the USA doing the "Lustmord and Tourgasm" Tour – clever play on Lustmord and orgasm – because we are playing Cruelty and the Beast in its entirety with an encore of fan favourites. On the 31st of October we are doing an album release show in London – my hometown – at the Roundhouse.
D:
Thank you very much for taking the time to talk to me. Do you have anything else to add?
A:
I sincerely hope that we can tour as soon as possible. I can't wait to see everyone and take the show on the road and to meet everyone. And also, to thank you David for taking the time to speak with me and prepare questions. Without people like you and your love for music we wouldn't be here, so thank you!
Cradle of Filth are going to release their new album "Existence Is Futile" on October 22nd.
Enjoy their latest single "Necromantic Fantasies"
TOUR DATES:
"Lustmord and Tourgasm" Tour:
Oct 01. Dallas, TX
Oct 02. Austin TX
Oct 03. Houston, TX
Oct 05. Atlanta, GA
Oct 07. Baltimore, MD
Oct 09. Boston, MA
Oct 10. Harrisburg, PA
Oct 11. New York, NY
Oct 14. Cleveland, OH
Oct 15. Detroit, MI
Oct 16. Chicago, IL
Oct 18. Denver, CO
Oct 20. Tempe, AZ
Oct 21. Anaheim, CA
Oct 22. San Diego, CA
Oct 23. Los Angeles, CA
Oct 24. Sacramento, CA
Oct 26. San Fransisco, CA
Oct 29. Monterrey, Mexico
"Existence Is Futile" release show:
Oct 31. London, United Kingdom
Metal on the Hill 2022 Festival:
Aug 12. Graz, Austria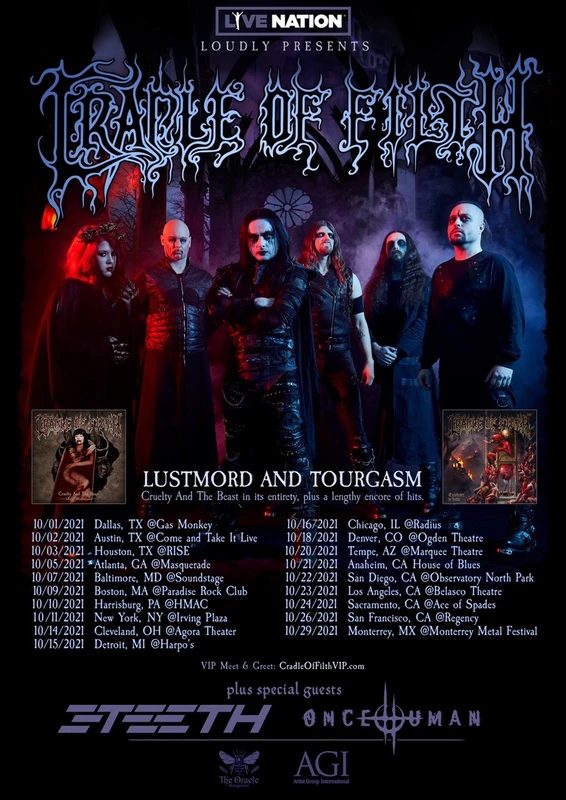 More information about Cradle of Filth:
https://www.facebook.com/cradleoffilth
https://www.instagram.com/cradleoffilth/
---
---